Streaming
Streaming Radio Bahá'í WLGI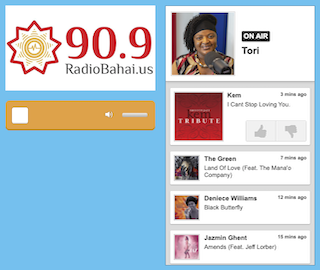 There are a wide array of options available for streaming Radio Bahá'í, as well as a new mobile app coming soon!
Easy
The easiest way for streaming Radio Baha'i, is to click on LISTEN LIVE button on the top right corner of any of our pages. Doing so, will allow the streaming player to pop up in your browser, and all you have to do is click the play button to enjoy the music! Try it out, and let us know what you think, and if you like it, why not tell your friends? After all, we can't help you with building spiritual communities if people in your community aren't listening.
Easy (if you have a smart speaker - Alexa, Google, Apple)
Simply ask your smart speaker to play Radio Baha'i. "Hey Siri, play Radio Baha'i". "Hey Alexa, play Radio Baha'i". "Hey Google, play Radio Baha'i". You may have to do some setup to enable this feature on your smart speaker.
Streaming Services
There are several streaming media services, such as TuneIn. Let us know if you can't find us on your favorite streaming service and we'll do our best to get registered with them. With any service, you should be able to search for 'WLGI' or for "RadioBahai".
Media Player Client on a Computer
You can use dedicated media player apps or programs on your computer to listen to the Radio Baha'i stream. Examples include Windows Media Player, iTunes, or VLC. To use one of these programs to listen, you'll need to download the streaming file by clicking on one of the links below. Then open the downloaded file and open it in your media player. You can do this by right-clicking the file and selecting 'open with' and choosing one of the above applications from the menu. You can also click and drag the file onto the icon of one of these applications. It can take more than a minute for playback to begin.
If you have questions about streaming, please contact us.